Turtle Walk Story Hour and Author-Illustrator Meet & Greet
Join Orenda Wildlife Land Trust and Titcomb's Bookshop on Saturday, May 7th for a Turtle Walk two-part event!
11:30 AM – 1 PM, Titcomb's Bookshop, 432 Route 6A., East Sandwich: Author-illustrator Matt Phelan will be on site for an art demonstration and book signing.
2 Pm – 4 PM, Margaret Wyman Turtle Sanctuary, 194 Meadow Lane, West Barnstable: Join us at Orenda's Turtle Sanctuary for a Turtle Walk Story Hour and to learn more about Orenda's Diamondback Terrapin turtle protection program.
We invite you to come for one or both parts of the day! Personalized signed copies of Turtle Walk, by Matt Phelan will be available for purchase at both parts of the event.
This family-friendly event is the third in Orenda's story hour series, aimed at connecting communities to their natural environment and fostering a sense of wonder and appreciation for wildlife. We hope you will join us!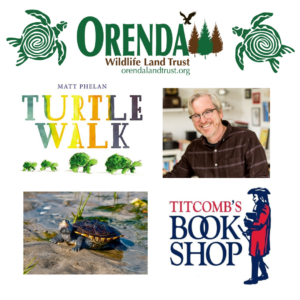 Capacity is limited and advanced registration is required to attend the Turtle Walk Story Hour.
The event fee is $5 per person, with all proceeds directly supporting wildlife preservation.
Parking at the Turtle Sanctuary is limited, so please carpool if possible.
For more information about this event and to learn how you can help support our mission to protect open space and wildlife, email info@orendalandtrust.org
Orenda Wildlife Land Trust's mission is to preserve and protect open space for wildlife habitat, fresh air, and water quality in sanctuaries on Cape Cod and throughout Massachusetts.
Titcomb's Bookshop is a family-owned bookstore established in 1969 in East Sandwich, Cape Cod. It offers three floors of thoughtfully selected books, toys, and gifts, as well as friendly and knowledgeable customer service.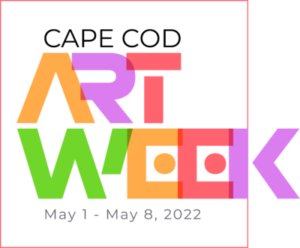 This event is part of Cape Cod ArtWeek, a celebration of the Cape Cod arts and cultural community and their economic impact on our community. With this inaugural launch, local arts and cultural organizations, as well as artists and creative entrepreneurs, will present innovative, creative, affordable, cultural events in communities across Cape Cod. Cape Cod ArtWeek will show how they creatively impact our community and how we can support the arts and cultural on Cape Cod.