Turtle Walk Story Hour a Success
Orenda celebrated the kickoff of our Story Hour series with a Turtle Walk story hour at our Margaret Wyman Wildlife Sanctuary. A wonderful group joined us following in the footsteps of a turtle, as depicted in the children's book, "Turtle Walk," by Matte Phelan.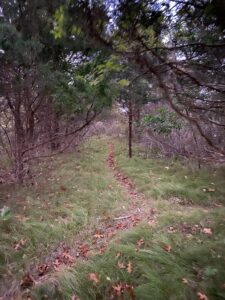 We walked the trail of our turtle sanctuary in West Barnstable and heard about how these turtles nest, hatch and grow. We also shared the successful results of our turtle team efforts this year, as well as the ongoing diamondback terrapin protection program working to protect these threatened creatures.
Our turtle walk story trail will be re-installed in the spring as we prepare to continue our diamondback terrapin protection efforts and introduce our Turtle Tam for 2022.
If you would like to become a turtle team member or support our mission to protect open space and wildlife, please email info@orendalandtrust.org for more information or click on the Donate/Join button on this page.
Watch for information on our next Story Hour Event coming soon!