Meadow Lane, West Barnstable, Massachusetts, 9 acres – 1988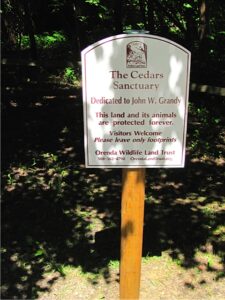 Orenda's first sanctuary on Cape Cod. The property was acquired from the Estate of Ina Davidson by Barbara and Charles Birdsey in January of 1988 and then donated to Orenda.
Back in the 1600's, The Cedars was part of a large land grant given by the patriot James Otis to the Reverend John Smith.  According to the historic commission Reverend Smith may have operated a dock for coastal vessels shipping salt and shellfish to northern markets.
Located on Meadow Lane in West Barnstable, the 9 acres of fields, woods and wetlands was formerly used as farmland. The salt marsh grass was cut for fodder. As its name implies, the land is now dominated by red cedar trees, that cover more than half of the property in both strips and thick stands. The berries of the red cedar trees are eaten by over fifty species of birds as well as skunks and opossums.
There are also two large wetland areas that are loosely ringed by mature red maples draped with great masses of grape and briar vines. They provide excellent nesting habitat for many birds. The wetlands hold water most of the year and are influenced by the tides of the great salt marsh that borders the property.
Observed/Protected Species
Red Maple, Red Cedar, Apple, Birch, Bayberry, grapevine, briar, poison ivy, raccoon, red fox, mole, skunk, coyote, white-tailed deer, red squirrels, gray squirrels.
The sanctuary is also home to  raccoon, red fox, mole, skunk, coyote, white-tailed deer, red squirrel and gray squirrel.  The Cedars supports a rich diversity of life, and provides protective habitat for the wildlife we truly love.
Restrictions/Approved Uses
According to the deed, "No hunting and/or trapping of any sort shall be allowed on the subject premises; The Grantor reserves the right for he, his heirs and assigns, to pick blueberries and oakberries on the subject premises and maintain access to the blueberry and oakberry bushes on the subject premises."
Directions:Meadow Lane, West Barnstable: The sanctuary is located on Meadow Lane off of Route 6A in West Barnstable near the Barnstable – Sandwich town lines. Turn north onto Meadow Lane. The Cedars sanctuary is 2/10ths of a mile on your left and is marked with an Orenda sign.