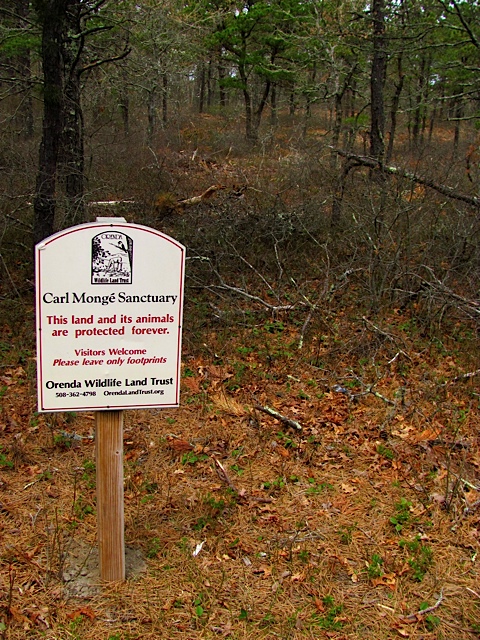 The Carl Monge Sanctuary, 13.7 acres – 2010
The Carl Monge Sanctuary was acquired in June 2010 and lies within the Mashpee National Wildlife Refuge. It's surrounded by two critical Orenda properties: the 86-acre Makepeace Sanctuary and the 50-acre Mercy Lowe Sanctuary. The Monge Sanctuary includes pine barrens, a globally rare habitat. The Weeden Family had owned the Monge land for over a century. Named in memory of Carl Monge, a former past President of Orenda, the Sanctuary was formally dedicated on October 8, 2010, in his memory.
Directions: 147 Lovells Lane, Mashpee Drive north on Great Neck Road North from the Mashpee Rotary. After the Traffic light and entrance of Lowell Rd on your left, drive north 5/10 of a mile and take a sharp left on Quashnet Rd. Proceed down Quashnet Rd. 4/10 of a mile and take a right on Lovells Lane. Carl Monge property is on your left.