Terrapin Turtle Protection Program 2022 Summary
Orenda Wildlife Land Trust is pleased to present the summary of our 2022 Diamondback Terrapin protection program. Our volunteer initiatives were conducted at our Turtle Garden sanctuary in West Barnstable, where Diamondback Terrapins have been nesting in large numbers for years.
Terrapins are listed as "threatened" in Massachusetts due to various factors including over-harvesting in the 19th century, predation, traffic, and habitat loss. We are conducting habitat management, nest identification and protection, and hatching observation/assistance.
Terrapins spend most of their lives in the salt marsh. Each summer, females lay their eggs in sandy areas above the high tide line. Eggs hatch in the late summer and early fall and the hatchlings make their way to the upper rim of the marsh, where they mature for several years before entering the larger marsh area.
Terrapin Turtle Protection Program 2022 Summary: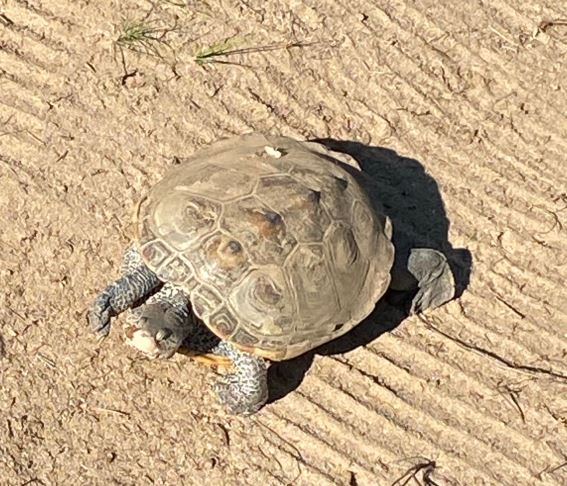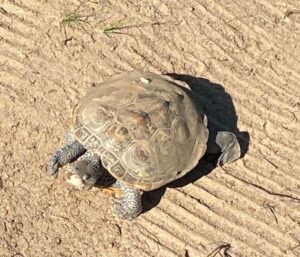 Nesting Season
Our active nesting season began June 10th with our first nest protected on that day and our last nest protected on July 3rd.  Nesting was actively observed through July 3rd, but often will continue into mid or late July. For this reason, we monitor for wild nests during hatchling season. We protected twice as many nests at the sanctuary this year, for a total of 7 nest protected, one of those being in the road next to the sanctuary. There were also quite a few depredated nests found during the nesting season. We identified 26 depredated nests.
Hatchling Season
Starting in early August, the nests were monitored twice daily for signs of emergence. The hatchling season yielded mixed success with many failed eggs found, most likely due to the drought.  In the protected nests, we found and assisted 6 live hatchlings and relocated them to the leaf litter abutting the marshy area. We estimate that an additional 55 hatchlings emerged on their own successfully from both the self-release type PE and also in the raised cage style with the escape hatches working well. The time of incubation to emergence ranged from 61 to 78 days. This means in the protected nests we had approximately 61 hatchlings emerge. We also located four wild (unprotected) nests that showed signs of successful hatching emergence. Since some deprivation was also noted in two of the wild nests, we estimate another 20-25 hatchlings emerged successfully. This means we may have approximately 70-80 hatchlings on site. Overall, the results were good. It is clear from the number of nests identified, 37 total, that this continues to be an active nesting site for the diamondback terrapins.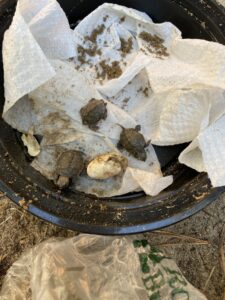 Planning
We had a small, but committed group of volunteers, with 10 trained team members, five of which were at the site regularly, and others helping when they could. We will be holding a volunteer appreciation event (date TBD) to thank our volunteers and to get input from them on what worked, what they enjoyed and what could be improved. We can use this input to fine tune our data collection forms and monitoring procedures. We are also striving to grow our volunteer pool. Training sessions are likely to be held in the early spring, 2023 on a weekend day or weekday evening to allow for working people and families to participate. The nesting protection efforts require a commitment of both time and physical energy. Hatchling season is easier, but requires monitoring twice a day to ensure hatchlings do not remain exposed to the sun or predators.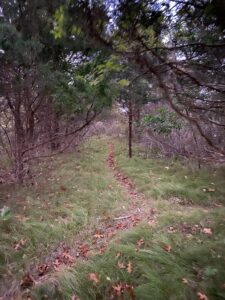 Site Preparation, Maintenance, and Program Plans
We will be planning a minor clean up of the site in early November and then a larger site renewal in early spring after any overwintering hatchlings have emerged.  We also plan to begin a head start program for hatchlings and are looking into a permit and training program to do microchip tagging of adult females and head started hatchlings. This will allow us to get a better idea of the stability of our diamondback terrapin population and the impact of our protection efforts at the sanctuary.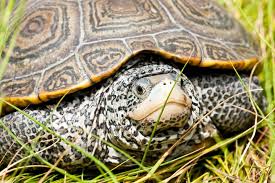 Call for Volunteers
For more information about joining our Terrapin Turtle Protection Team, please view our Terrapin Turtle Protection Program Description
Questions? Please email Lisa Nagel, program coordinator, at lisanagel@orendlandtrust.org
Learn more about Orenda Wildlife Land Trust, and how you can support our mission, here!