In Service of Our Land and Wildlife: Collaborating with AmeriCorps Cape Cod
Last month, we had the opportunity to collaborate with AmeriCorps Cape Cod not once, but twice, on two successful environmental service days!
On Saturday, April 22nd, our Land Steward, Johnny Robinson, represented Orenda Wildlife Land Trust at the 22nd Annual Cape Cod Canal Clean-Up Earth Day Celebration. Over 100 volunteers helped to remove 500+ lbs. of litter along the Canal during the festive event, hosted by AmeriCorps Cape Cod and the U.S. Army Corps of Engineers.
We were honored to be a part of this critical annual initiative that serves to keep the Canal, which is the widest sea-level canal in the world, clean and safe, benefiting the wildlife and community members that inhabit the surrounding areas, as well as the thousands of tourists, who enjoy the recreational opportunities the Canal provides.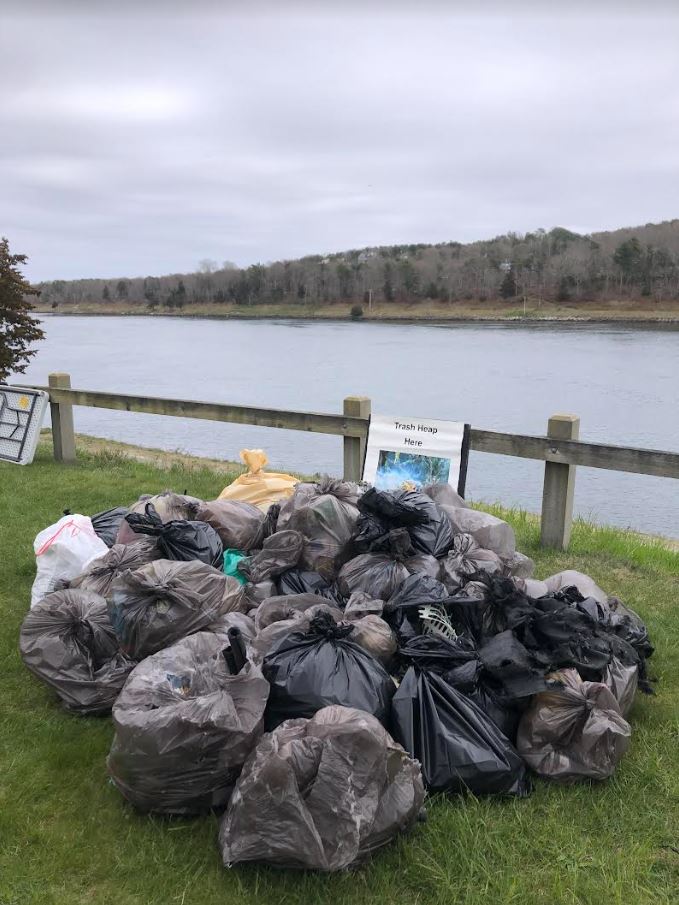 On Monday, April 24th, we gathered at our Wyman Turtle Garden sanctuary in West Barnstable to expand our sandy gardens in preparation for the 2023 Diamondback Terrapin nesting season. This effort included the removal of invasive species that can destroy the terrapins' native food sources and can also alter the abundance or diversity of species that are important habitat for other native wildlife.
Our Terrapin Turtle Protection Program Coordinator, Lisa Nagel, has been instrumental in ensuring the the well-being of the turtles that inhabit our sanctuary, and is always eager to engage with prospective volunteers. If you are interested in becoming part of our Terrapin Turtle Protection Team, please email Lisa at lisanagel@orendlandtrust.org.
We are very grateful to have had the assistance of this tremendous group of service-minded young adults from AmeriCorps, who have made a commitment to address the environmental and disaster preparedness needs in the communities of Barnstable County. Thank you for your service, AmeriCorps Cape Cod!
About Orenda:
We are a volunteer-driven non-profit organization whose mission is to preserve and protect open space for wildlife habitat, fresh air, and water quality in sanctuaries on Cape Cod and throughout Massachusetts. Working with the public, and in collaboration with other like-minded organizations and community partners, we are committed to achieving our mission through land acquisition, outreach and educational initiatives focused on the critical role that conservation plays in the future of our planet.
We're Thinking and Acting Globally. We're supporting the 30 x 30 movement, which addresses the devastating loss of nature across the globe. Together, we have a moral duty to support the commitment of likeminded organizations and individuals to protect at least 30% of the planet by 2030.
Why 30%? Scientists agree that to prevent a mass wildlife extinction crisis, support a growing global population, and address climate change, we must conserve at least 30% of the planet by 2030. Join us in this collective effort to protect our planet for future generations!
We're Scaling our Impact Locally. Since the mid 1900's, Cape Cod has lost approximately 40% of its open space to development, while residential areas have nearly quadrupled. This urban sprawl has destroyed our woodlands, threatened our water quality and natural resources, and fragmented wildlife habitat. Today the Cape is approximately 45% developed, 35% protected, with 20% remaining in the balance. Land conservation is the most effective tool we have in our plight to save the unique natural beauty of Cape Cod. But, we cant do it alone. We need your help to protect the land we love – right now, right here, in our own back yard!
Learn more about Orenda Wildlife Land Trust, and how you can support our mission, here!
by Meghan Douglas Hill, Executive Vice President, Orenda Wildlife Land Trust