Carver Island of Shallow Pond purchased and now dedicated to David Simser
With generous support from the David H. Simser estate and grants from the Cape Cod Five Foundation, the Charles H. Thomsen Land fund and also support from our members and the Compact of Cape Cod Trusts Orenda was able to complete the purchase this past July.
The .68 acre island is comprised of wooded upland with beech, maple and oak trees and small holly seedlings. Carver Island is also located within a state designated priority habitat for rare species, a core habitat and critical natural landscape areas, a cape cod commission significant natural resource area and also in a zone of contribution to public water supply.
A dedication of the island in the memory of David H. Simser, was held on Sunday October 28th as Hurricane Sandy was making her way up the East Coast. Orenda board members Kenneth Burnes, Diane Salomone and Farley Lewis plus Orenda member Brad Butman and Administrator Liz Lewis were led by Stewardship Chair Dick Boyden as they kayaked and canoed to the island. David Simser's widow Kim Amaral joined us with a group of David's close friends. Aaron Servis, Orenda's Nelson House caretaker was part of the manpower needed to position the sign. The following is the obituary for David Simser printed by the Cape Cod times:
"David Simser was an early proponent of the use of biological agents to control pest insect populations, he worked with Massachusetts cranberry growers to reduce their use of pesticides and was research director for the New Alchemy Institute, where he worked extensively with organic farmers on and off the Cape.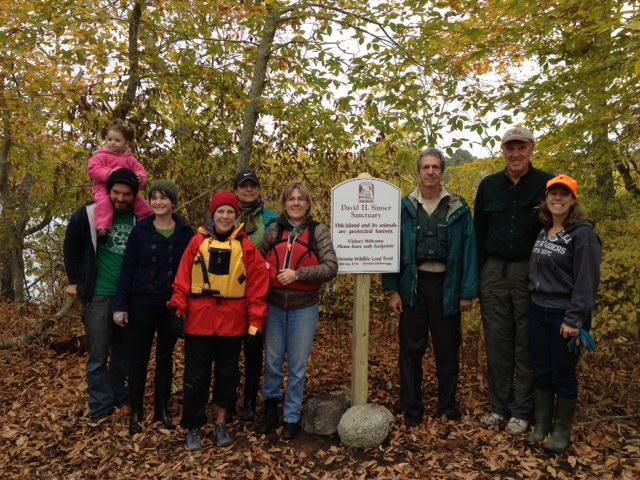 In 2002, he began working for the Barnstable County Extension Service, studying deer ticks on the Cape and Islands and developing mitigation efforts designed to reduce tick populations and protect residents from contracting Lyme disease. He received the Environmental Protection Agency's Bronze Medal for his work and was featured in the award-winning documentary "Under Our Skin", which delved into the controversy over the medical treatment of people with Lyme disease. His posters on deer ticks and the ways people can protect themselves from them are found throughout Massachusetts and have been replicated around the country. In addition to his research and tick mitigation efforts, Dave found the time to work extensively in local communities. An eloquent and engaging speaker, he could be frequently found talking at garden clubs, releasing ladybugs with schoolchildren or simply answering the public's many questions about "bugs."
Orenda appreciates the support of Kim Amaral and the David H. Simser Estate in protecting this island forever and providing a wildlife, dogs and golf ball friendly island in Shallow Pond!