Give the Gift of Nature on Giving Tuesday!
When you support Orenda Wildlife Land Trust, you are directly supporting critical initiatives that preserve land and protect wildlife!
Tuesday, November 29th is Giving Tuesday, a global day of generosity that is more vital to our planet now than ever before…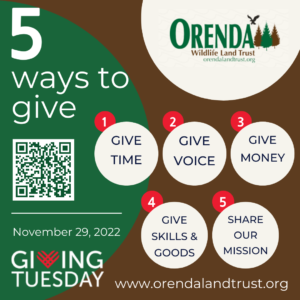 This #GivingTuesday, please consider supporting Orenda!
There are many ways you can help us make an even greater impact – give time, give voice, give money, give skills and goods, and share our mission!
Click on our case for support below to learn about the impact we're making locally in our communities, and how we're contributing to a global ripple effect as part of a growing coalition of individuals and organizations committed to protecting our planet…
Thank you for your support!
Care to share YOUR Orenda impact story? We'd love to hear all about WHY you support our organization! What have your experiences been with Orenda? How has nature, land and wildlife impacted your life?
Email your testimonial to info@orendalandtrust.org *Feel free to include photos and/or video!